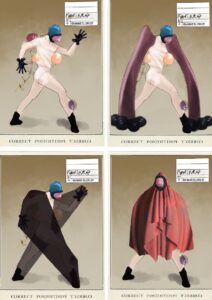 ON AND BEHIND THE STAGE  

Choreography: Tali Rázga and the performers
Dancer: Søren Linding Urup
Composer and musician: Siri Skamby
Scenography and costumes designer: Ida Marie Ellekilde
Music adviser: Kirsten Juul Seidenfaden
Tailor: Hanne Mørup
Production Manager and builder: Mikkel Munk Iversen
Graphic designer, pictures and video: Søren Meisner
Illustration: Marie Priem
PR and Marketing: Betina Rex
Producer: Carlos Calvo
SUPPORTED BY Statens Kunstfond – Projektstøtteudvalget for Scenekunst, Beckettfonden, Oticon Fonden, Wilhelm Hansen Fonden, Augustinus Fonden, BUPL
Køn i krop – K*I*K
A sensory performance installation for the very young
We are lost in the scratchy, tickly, chortling grass; we have shrunk, and we have been admitted into the world that usually does no more than tickle our feet on a hot summer's day. Grassgreen is a chance to discover the endless wonders and opportunities concealed amidst the wafting grass as a quick-witted dancer and a versatile instrumentalist explore the living landscape, immersing us in a new world of sound and movement, burgeoning with music given the time and space to emerge from all the greenery. Blades of grass heavy with dew, speckles of sunshine, the buzz of insects and the whispering breeze form a sensory universe that celebrates the miniature miracles of everyday life.
Age: For the entire family
Duration: 30 min 
Premiere: 03.02.2018 Zangenbergs Teater, Copenhagen . Herafter performed at Den Frie udstillingbygning c/o Dansehallerne, Copenhagen and at Corpus, The Royal Danish Theatre, Copenhagen. and at the festival for young audiences; April festival. The performance is available for touring.
For full acces to the performance contact Gazart at info@gazart.dk
Download press photos here.