When I Close My Eyes
23.03. – 30.03. 2019 at Zangenbergs Teater, Copenhagen – Tickets HERE
Performances Tue. – Fri. 09.30 & 11 AM + Sat. + Sun. 11 AM & 1 PM
1-7 April 2017. April Festival. Hjørring (Denmark).
Onsdag d. 3. kl. 10 og 12 Frydenstrandskolen
Fredag d. 5 kl. 17.30 Hjørring Badmintonhal
Lørdag d. 6 kl. 15.45 Hjørring Badmintonhal
A poetic and physical performance about loss  for 8 – 11 year-old children.
We buried Grandpa. But it was only his body that we buried. Grandpa is still the sound of a double bass playing, the sensation of large rough hands, the scent of fish stew and the open sea. When I close my eyes, Grandpa is still here.
Two children have both lost their grandfather, and when they buried him, sorrow came to keep them company. Sorrow is like a warm blanket that you can nestle into, recalling the voice of Grandpa and his smells. But sorrow is also dark and heavy – a violent storm, a silent ghost. Sometimes the sorrow fills the entire world, and at other times you can put it aside in a bundle. But the sorrow is ever present.
Dealing with loss and grief, this performance follows two children who have lost their grandfather.
AGE GROUP
8-11 years old
DURATION
Approx. 40 min.
PREMIERE
November 26th. 2018 at Aaben Dans, Roskilde
ON AND BEHIND THE STAGE
Choreography: Tali Rázga
Dancers: Søren Linding Urup & Fie Dam Mygind
Composer and  live musician: Hans Find Møller
Text: Jesper B. Carlsen
Set design and costumes: Nadia Nabill
Dramaturg: Sosha Teperowska
Graphic designer, pictures and video: Søren Meisner
PR and Marketing: Betina Rex and Ida Fredericia
Producer: Carlos Calvo
Co-producer: Aaben Dans
SUPPORTED BY
Statens kunstfond – Projektstøtteudvalget for Scenekunst
A.P.Møller Fonden
Oticon Fonden
Dansk skuespillerforbund
Augustinus Fonden
BUPL
SparNord Fonden
Københavns Scenekunstudvalg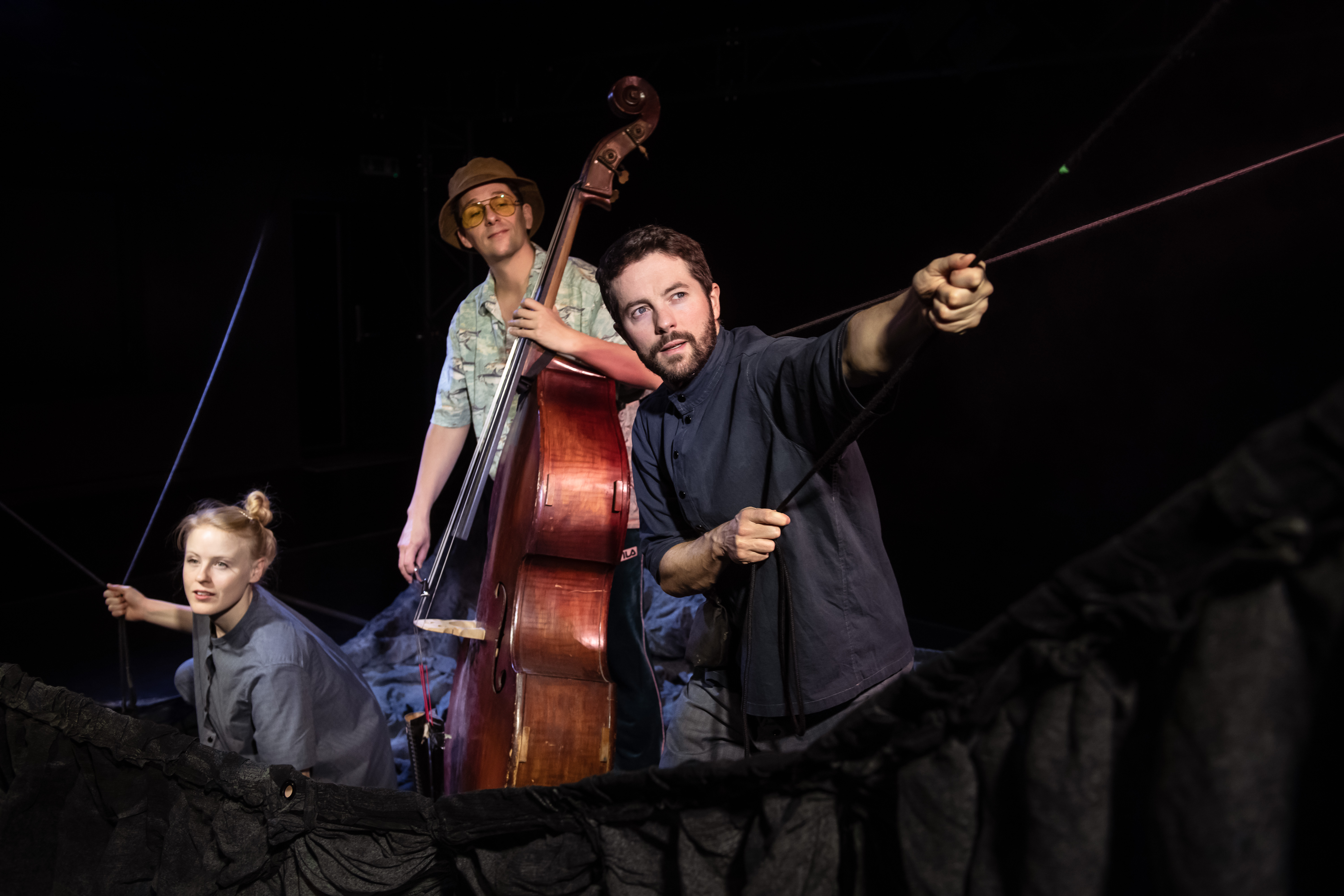 Photo by Søren Meisner 
PR photos to download  here (ZIP)
FULL DOCUMENTATION VIDEO